Problem Statement -1: Growth and revival of Climate Resilient Agriculture is key for Indian Farmers
Over the last 50 years, a range of factors had pushed organic / natural farming to very low levels. As per some estimates, currently, under 10% of irrigable land is dedicated to natural /organic  farming in the country. And that is where, precisely, lies the opportunity. 
Problem – 2: Removing the myth of low profitability for small / marginal farmers in natural / organic farming
India is a country with rich and deep knowledge in natural farming. But, over the 30-40 years, there has been a significant reduction in traditional organic farming practices. Lack of knowledge, non-availability of practical guidelines have been a limiting factor towards large-scale conversion towards natural / organic farming practices by the younger generation of farmers. 
Lack of comprehensive policy approach to adoption of organic farming practices also contributes significantly to poor understanding and ignorance towards the multi-dimensional benefits of natural farming. 
Problem – 3: Dignified livelihood ex-servicemen in their own villages
It is a little-known fact outside Armed Forces that over 60,000 soldiers retire from Indian Army every year. If we add the numbers from Indian Air Force, Navy and para-military forces, the numbers could be above 100,000 per year.  
Many of these soldiers retire in the age group 35-50 years. They have usually spent 18-25 years in Army having given their best years to the nation.  While a number of Government and Industry efforts are in place to help soldiers start a second innings in their lives, the scale of the issue is significantly large, and a lot more needs to be done. 
Most retiring soldiers aspire to settle down in their villages but changing social dynamics (land-holdings are reduced, a break-down of joint-family system) and rising financial needs (education of children) force them to move to cities, often seeking low-end jobs like security guards, cab drivers and so on. 
Most of them have small landholding (2-5 acres); but with low knowledge, and regular issues of water, pesticides, costs, and lack of marketing knowledge to sell produce drives them away from taking up farming as a profession after retirement.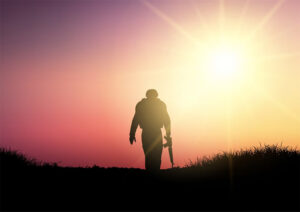 Take any well-run rural program. It will, in all likelihood, furnish two critical predictors of success: an inspiring leader at grass-root level and a consistent quality of execution. It is the same for any natural farming project, where mindset change among farmers has to be achieved through demonstration of results on ground against fairly high odds. It is our belief that ESM, duly trained and developed, are ideally suited to be the instruments of change in mass adoption of natural farming practices across India.
A typical soldier is usually from a rural background. He has spent around 15 to 20 years of his best years in the Armed Forces. He is well-trained, has all potential abilities needed to be a grass-root leader. He is well-respected in his community. After retirement, they want to go back and settle down in their village. But often, lack of economically viable options force many of them to take up low-end jobs in cities like security guards, drivers and so on.
Every year, over 50 – 60,000 soldiers retire from the Indian Armed Forces. That makes for over half a million of them who have retired in the last 10 -15 years or so, with a large percentage of them from rural background. A huge impact can be created in rural development, if even 10% of them are developed as natural farming entrepreneurs.
Therefore, we work with army institutions and ex-servicemen groups to select and train retired soldiers in different areas of rural entrepreneurship. One of the major areas for retired soldiers is organic farming entrepreneurship where we aim to develop 5000 of them as organic farming entrepreneurs in next 5 years.